Coffee Drip Bags • Guatemala
Almonds • cocoa • cranberry
Regular price
Regular price
$11.00
Unit price
per
SAVE Liquid error (snippets/price line 115): divided by 0%
COMING SOON
Free shipping for orders over $45
Introducing our specialty washed Guatemalan coffee from the ASPROCDEGUA-producing organization, now available in a convenient drip bag format. Sourced from small farms in the scenic Huehuetenango region, this mild and sweet coffee with a delightful citric undertone is now perfectly suited for your on-the-go brewing experience using a portable coffee filter.

ASPROCDEGUA (Asociación de Productores de Café Diferenciados y Especiales de Guatemala) was founded by the esteemed master cupper Noe Quintero and comprises 664 contributing members, 394 of whom hold organic certification. These dedicated producers own small farms averaging 2 hectares each, cultivating coffee alongside other diversified crops such as bananas, oranges, lemons, avocados, guava, and cassava.

Nestled in Western Guatemala along the Mexico border, the Huehuetenango region is renowned for producing some of Latin America's finest coffees. Its exceptional coffee quality can be attributed to a variety of factors, including the region's climate, altitude, water sources, and cultivation of traditional coffee varieties. The high altitude and cool climate create an optimal environment for growing high-quality coffee beans, while the volcanic soil and abundant rainfall contribute to the development of distinct flavor profiles.

Huehuetenango is famous for its use of traditional coffee varieties, such as Bourbon and Caturra, meticulously cultivated by local producers on small farms. These dedicated farmers adhere to traditional methods during both the growing and processing stages, resulting in exceptional coffees that showcase the region's rich heritage.

The harvested ripe coffee cherries are promptly depulped, usually on the same or following day, and then undergo a fermentation period of 12 to 48 hours, depending on the prevailing climate. After thorough washing to remove the mucilage, the beans are carefully dried on patios or raised beds.

Now, with our convenient drip bag format and portable coffee filter, you can enjoy the remarkable taste of this Guatemalan coffee from ASPROCDEGUA wherever you go. Each drip bag contains the perfect portion of coffee for a hassle-free brewing experience. Simply use your portable coffee filter to savor the mild and sweet flavor with its enticing citric undertone, complemented by notes of almond, cranberry, and cocoa. This coffee offers a delicate body (2/5) and low acidity (2/5), delivering a smooth and well-balanced cup that will satisfy your discerning taste buds.

Experience the exceptional quality of our Guatemalan specialty coffee from the Huehuetenango region in the convenient drip bag and portable coffee filter format. Order your supply today and elevate your coffee enjoyment, no matter where your adventures take you.
Share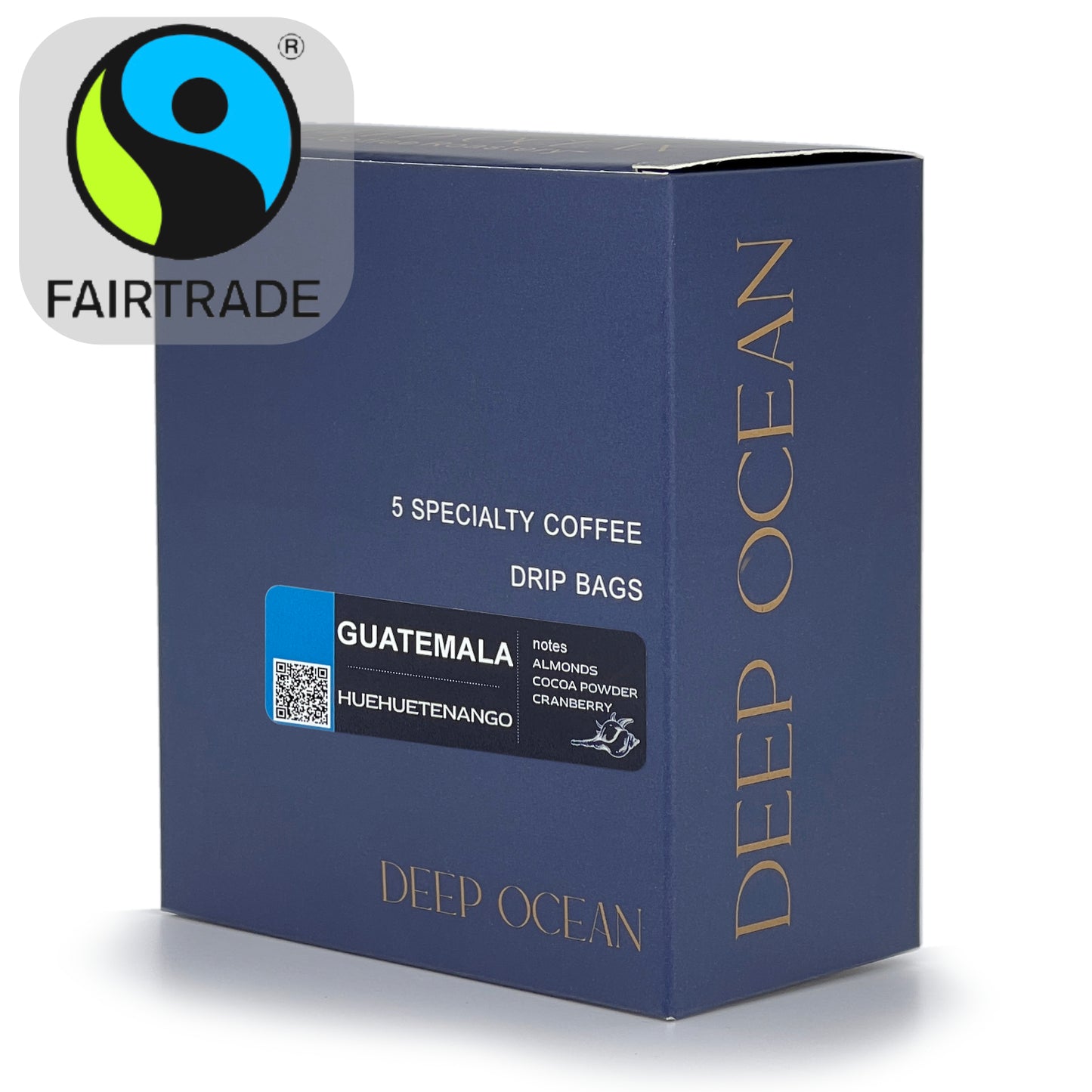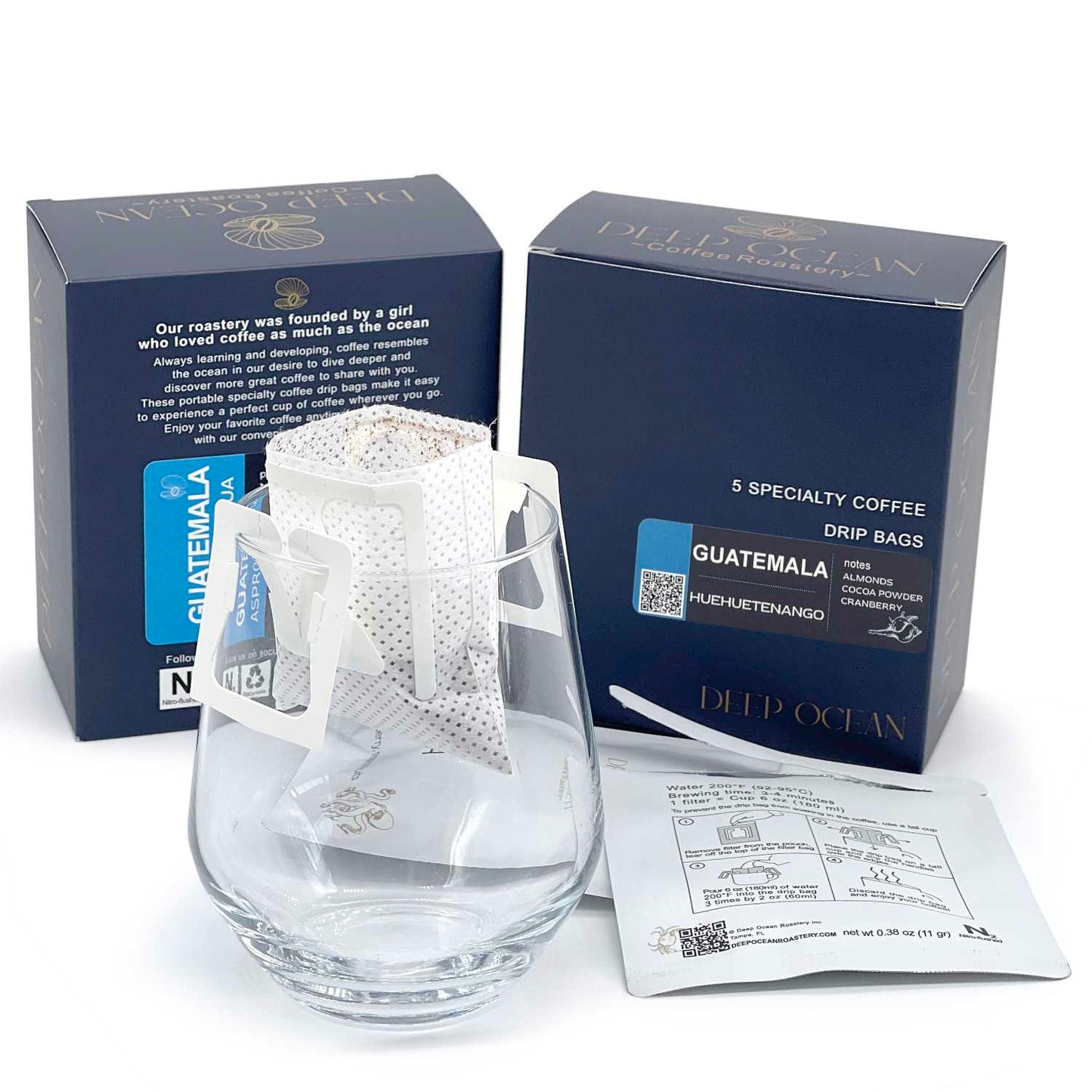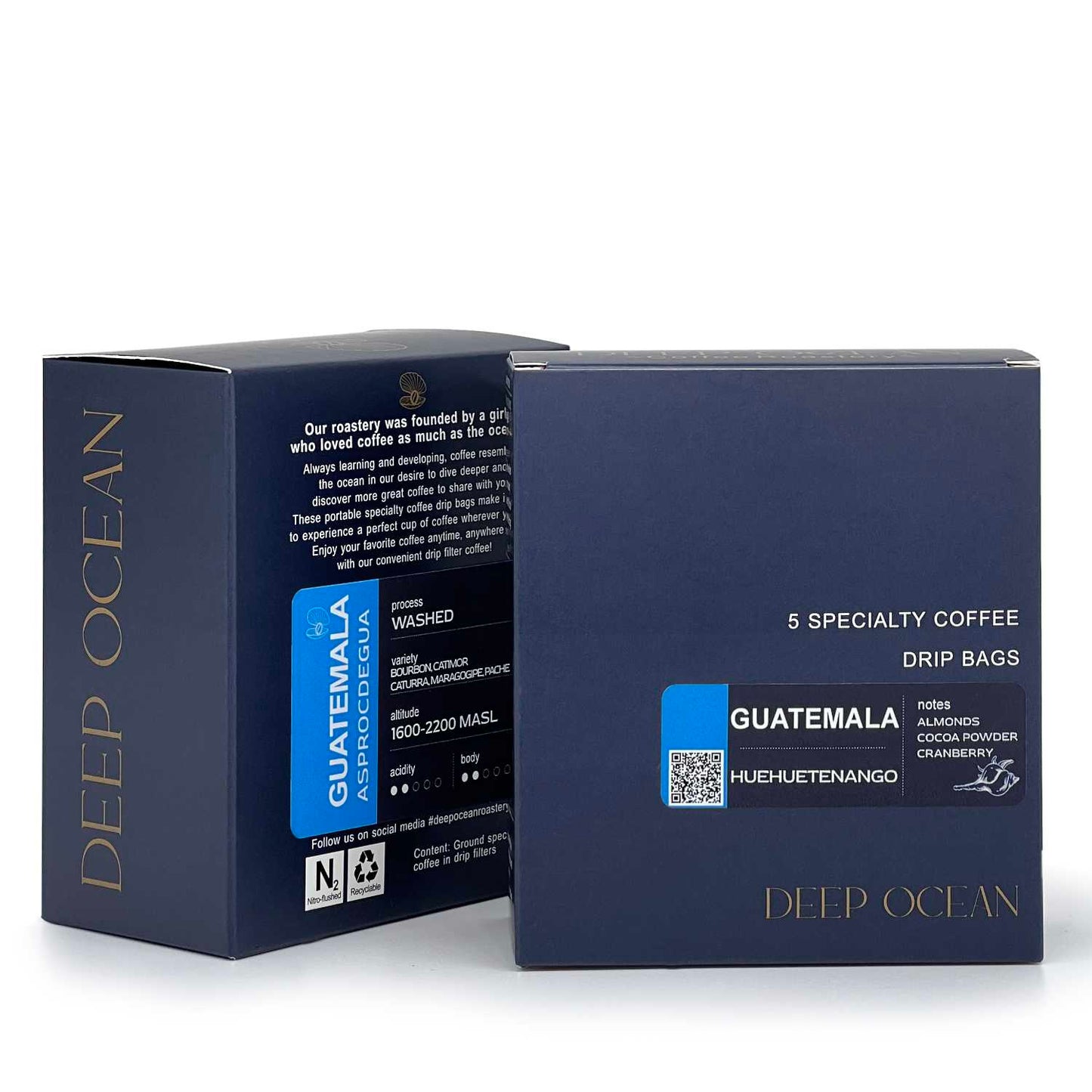 Free Shipping

For all our customers in US, we are happy to offer:

🚚 Free shipping for orders over $45

🚛 Free shipping on any subscriptions

It will automatically apply to your order at the checkout

Get all benefits with subscription

☕ High quality freshly roasted coffee at your door each chosen period

🥰 Discount on first order

🚛 Free shipping on all deliveries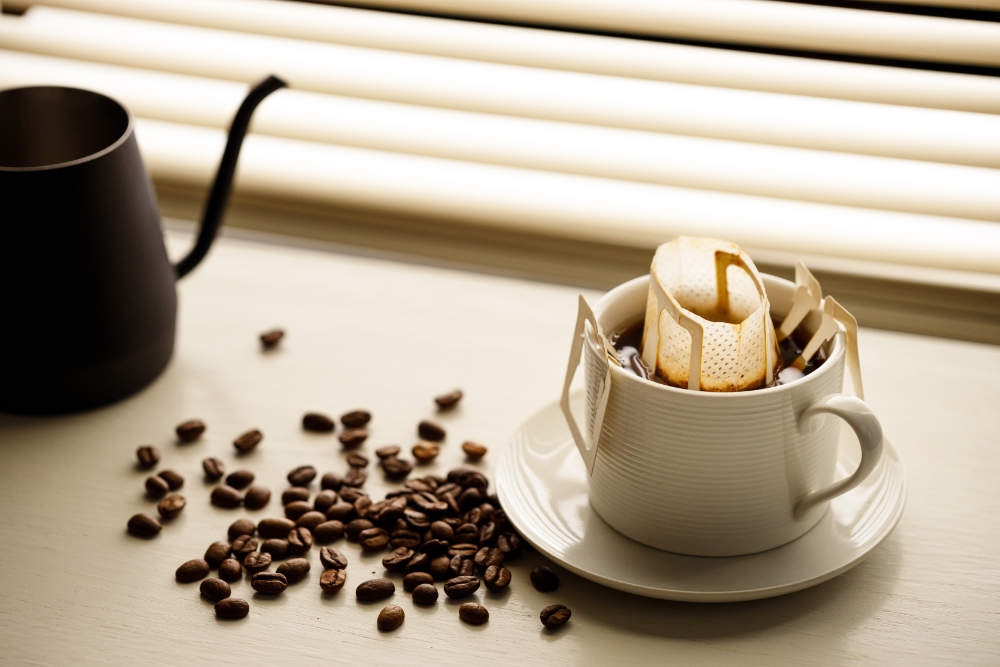 LEARN HOW TO BREW YOUR LOVELY COFFEE
Regardless of what coffee brewer and recipe you choose, everyone can find or improve their own perfect recipe that suits them. Follow these basic guidelines to get there and enjoy your coffee!
HOW TO BREW
Deep Ocean collection
Regular price

Regular price

$12.00

Unit price

per

Regular price

Regular price

FROM $30.00

Unit price

per

MORE OPTIONS

Regular price

Regular price

FROM $23.00

Unit price

per

MORE OPTIONS

Regular price

Regular price

FROM $20.00

Unit price

per

MORE OPTIONS

Choosing a selection results in a full page refresh.