HOW TO USE FRENCH PRESS
The French press coffee method is one of the simplest and most convenient ways to make coffee at home. This coffee pot is inexpensive, easy to use, and reusable.
The French Press is a method of immersion in coffee brewing. In most coffee brewing methods, water passes through ground coffee. In this immersion method, ground coffee beans steep in the water, allowing a more uniform extraction. Therefore, this drink can offer a richer taste and aroma. The advantage is that there will be some coffee oils and small particles of ground coffee in the cup, making the drink's texture more saturated and dense.
The secrets of how to make French press coffee are the right choice of coffee grinding and the water's quality for brewing. A French press works best with fresh, coarsely ground coffee beans that don't have tiny grains that get trapped in the filter. After steeping the coffee for a while, the plunger must be pressed slowly down to gather all coffee particles on the bottom. More fines will come into the cup whenever the plunger is pushed hard.
COFFEE GEAR AND EQUIPMENT FOR COFFEE BREWING
Grinder
with adjustable grinding size
Scales
Preferably with measuring step 0.1 gr
Bottled water
500 ml (17 fl oz) of filtered water preferably with mineralization 100-150 ppm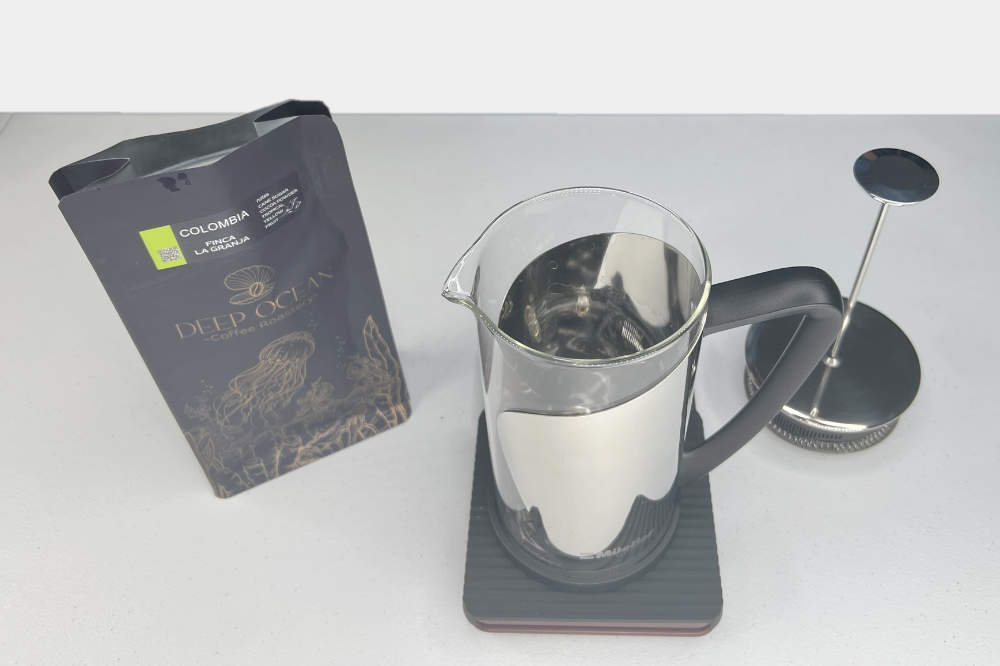 STEP 1. Grinding
Grind coffee to coarse grind size.

Heat the water to 95C (203F).

You can boil it and then leave it for a minute to get to the desired temperature.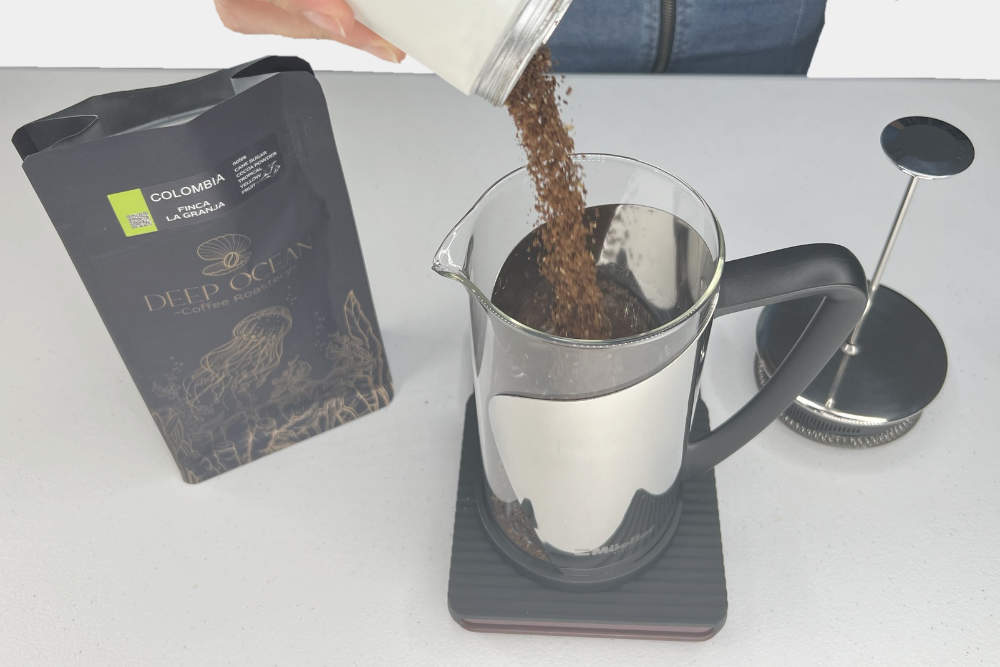 STEP 2. Preparing
Put the French Press on scales, and reset.

Pour 30 gr of ground coffee, reset the scales again.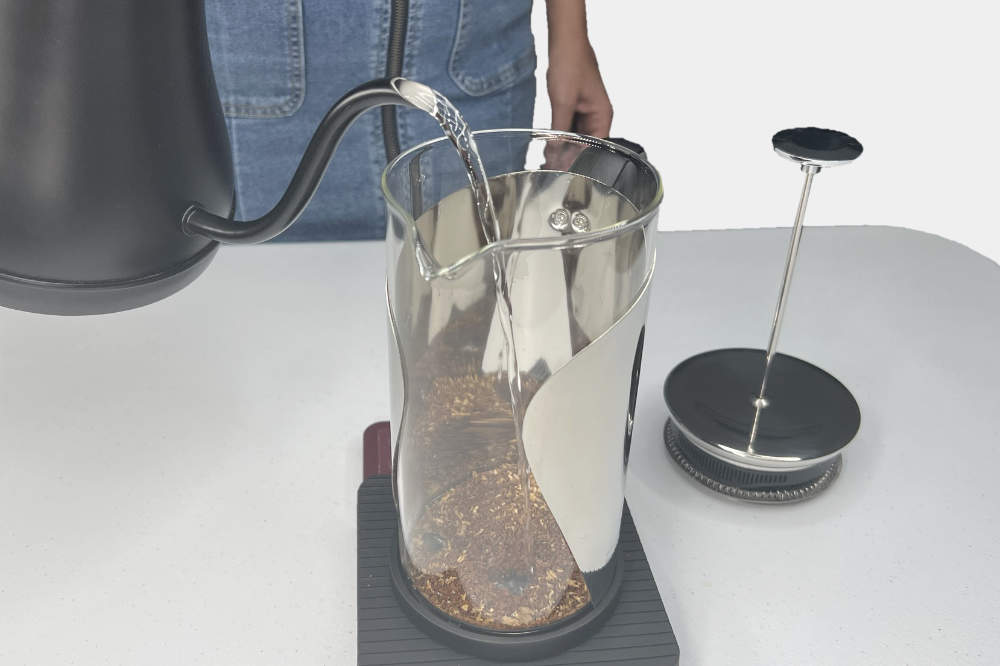 STEP 3. Brewing
Start the timer and pour hot water into the French Press.
STEP 4. Waiting
Stir coffee with a spoon and let it steep for 4-5 minutes.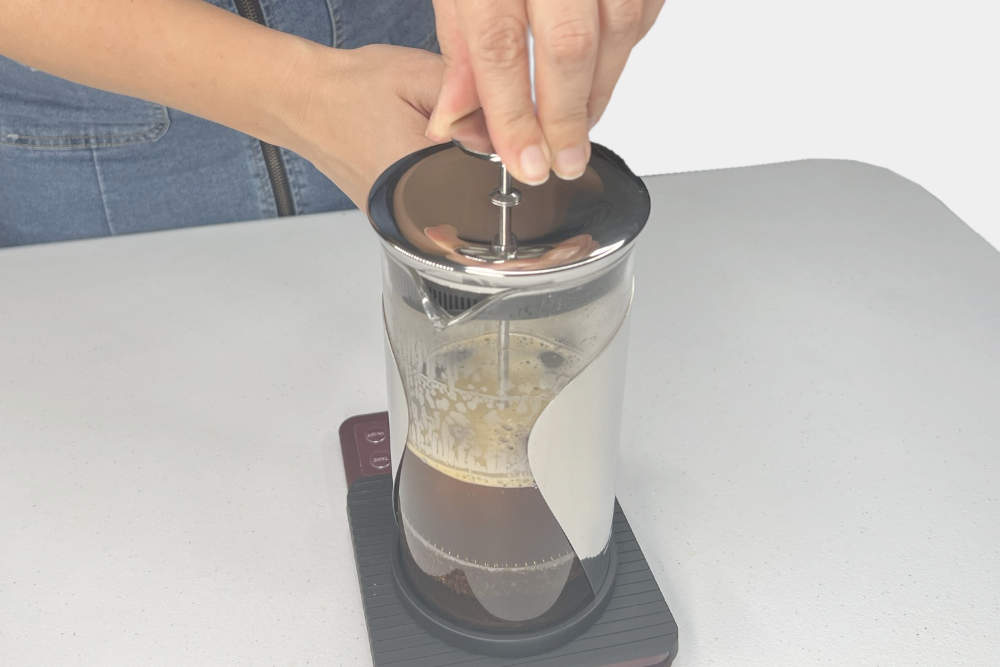 STEP 5. Pressing
Put the lid on top and gently press the plunger all the way down, until all the coffee grounds are on the bottom.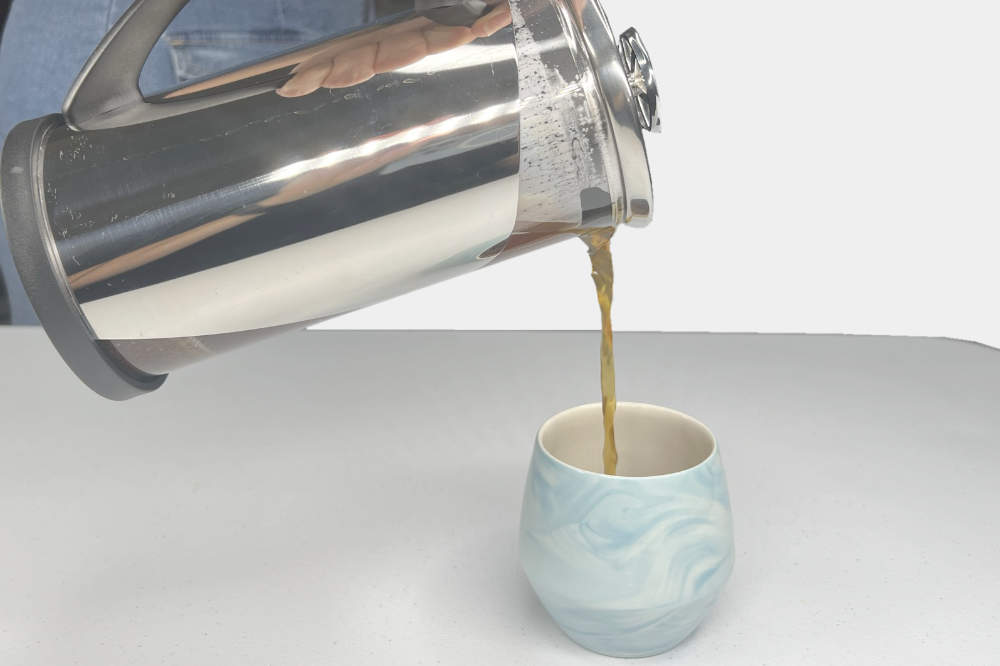 STEP 6. Enjoy
Enjoy your drink!

*Do not leave the excess coffee in the French press to avoid overextraction!